---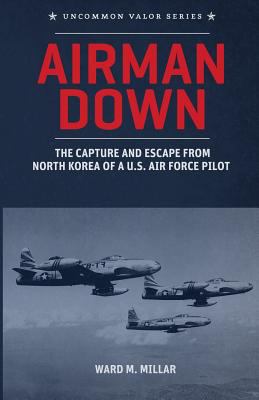 Book
Airman Down : the capture and escape from North Korea of a U. S. Air Force Pilot
Copies
1 Total copies,
1
Copies are in
,
0
Copies are out
.
"Airman Down is the story of the downing, capture, and subsequent escape and rescue of Captain Ward M. Millar, 7th Fighter-Bomber Squadron, U. S. Air Force, in 1951 during the Korean Conflict. While on his 30th combat mission over Korea, mechanical problems resulted in a fire on his F80 Shooting Star jet, forcing Millar to eject from his burning aircraft. Chinese troops quickly reached Millar, now suffering from two broken legs, and carried him away from inbound rescuers, who were unable to locate Millar. It was three months later, on September 10, 1951, following Millar's internment, escape, and evasion of capture for three weeks, that he was rescued by helicopter south of Pyongyang. Also airlifted to safety in Seoul was a sergeant in the North Korean Army who befriended and aided Millar during his evasion of the enemy." --Back cover.
Title
Airman Down : the capture and escape from North Korea of a U. S. Air Force Pilot
Call No
DS 921 .M642 2014
Published
[Charleston, SC?] : [CreateSpace Independent Publishing Platform], [2014].
Publication Desc
viii, 161 pages : illustrations, map ;
ISBN
9781495241482 (paperback)