---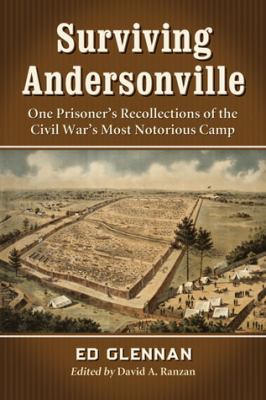 Book
Surviving Andersonville : one prisoner's recollections of the Civil War's most notorious camp
Copies
1 Total copies,
1
Copies are in
,
0
Copies are out
.
"This is a documentary work offering a first-person account of a Union soldier's daily adversity while a prisoner of war from 20 September 1863 to 4 June 1865. In 1891, while a patient at the Leavenworth National Home, Irish immigrant Edward Glennan began to write down his experiences in vivid detail"--Provided by publisher.
Title
Surviving Andersonville : one prisoner's recollections of the Civil War's most notorious camp
Call No
E 612 .A5 G55 2013
Published
Jefferson, North Carolina : McFarland & Company, Inc., Publishers, [2013].
Publication Desc
v, 215 pages : illustrations ;
ISBN
9780786473618 (softcover : alk. paper)